Blairs
A Place Called Blair
Originally published in the "Blair Family Magazine"
10th Anniversary Edition, Spring 1993
Editor (1993): Mona Mattingly
Updated and Prepared for Web Publishing by:
Edward P. Blair
Blair - A post-village in Waterloo Co., Ontario, now an urban center in the city of Cambridge, located on the west side of the Grand River. It was named Blair in 1858 in honor of Adam Johnston Fergusson Blair, who served in the Canadian Legislature and was President of the Privy Council under Prime Minister John MacDonald. Blair Township in Parry Sound District was also named for him.
Blairmore - Mountain town in Crow's Nest Pass, Alberta, about 10 miles East of the border of British Columbia and fifty miles North of the U.S. border. Named for Andrew George Blair, Minister of Railways, population of 2,000 (est.).
Blairton - A post-village in Peterborough Co., Ontario, located on Marmora Lake, thirty-five miles from Peterborough, population of 350 (1893).
Port Blair - The territorial capital of the Andaman and Nicobar Islands, a Union Territory of India, consisting of two island groups in the Bay of Bengal. Port Blair, population 240,089 [1991], is situated on the east coast of South Andaman Island.
In 1789, Captain Archibald Blair of the Bombay Marine (the East India Company's Navy), acting under orders from the government of Bengal, established a penal colony on this site, naming it Port Cornwallis in honor of his commander, Admiral Sir William Cornwallis. In 1858, the first European settlement on the islands was established near the site of the old penal colony, and was named Port Blair in honor of Captain Blair.
Ardblair Castle - Located one mile West of Blairgowrie, Perthshire. The estate was originally granted to Thomas Blair, a son of Balthayock Blairs, by King David II in 1399. The earliest part of the castle is a tall fortalice, grafted onto the foundations of an earlier tower or keep, said to date from 1688. Through marriage, the property passed into the hands of the Oliphants of Gask in 1791. It is currently owned by Laurence and Jennifer Blair Oliphant. The castle is filled with Jacobite relics.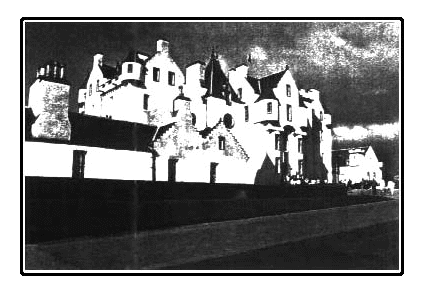 Blair Castle - Located at Blair-Atholl, Perthshire, between Perth and Inverness. Built in the 13th century and restored in the late 18th century, it is the ancestral home of Lord Murray, Duke of Atholl. The castle is apparently named for its location, for no Blair has ever lived there. Situated on 135,000 acres and containing an exceptional collection of antiques, Blair Castle is the premier tourist attraction in Perthshire.
Blairadam – A village in Fifeshire, was originally named Maryburgh, but renamed after the family of famous Scottish architects and interior designers, most famous of which was Robert Adam (1728-1792), a designer of furniture, whose father was born in this village.
Blairadam Forest - An area ten kilometers North of Dunfermline, Fifeshire, Blairadam means 'level clearing (blar) of Adam (surname).'
Blair-Atholl – A parish in Perthshire, located twenty miles North of Dunkeld. It is the site of Blair Castle, seat of the Duke of Atholl, the only citizen in Britain with the right to maintain a private army, the Atholl Highlanders.
Blair House – Located on the West coast of Scotland, a mile and a half from Dalry, Ayrshire, on the banks of the stream Garnock. The Barony of Blair was the ancestral home of the Blairs of Blair for nearly 800 years. Blair House, once called Blair Castle, is the oldest inhabited baronial mansion in Scotland that has not been rebuilt. The oldest part of the house is the guardroom tower, which was probably built before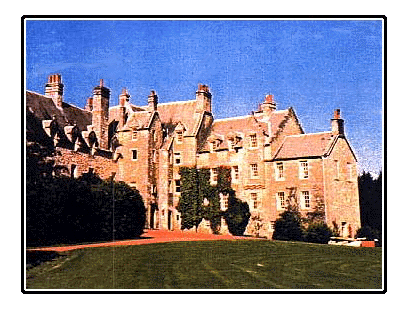 1200. The pole tower or the Keep was built on or about 1202. It has seen many additions and renovations since that time. Local people say that Blair House now has 99 rooms, just one room short of being a castle. It does indeed look like a castle. The first inhabitant of Blair House was probably William de Blair, who lived during the reign of William the Lion. He is mentioned in a contract between Ralph de Elington and the town of Irvine, dated 1205. The Eastern entrance has the date 1668 carved on the door lintel, with the Blair Arms quartered with Hamilton above. This likely refers to William Blair of Blair, who married Lady Margaret Hamilton, daughter of William, second Duke of Hamilton. Alongside this entrance there is a more ancient door with the date 1617, with the initials BB superimposed on the Blair Arms on the left and initials A W superimposed on the Arms of Wallace of Craigie on the right. This likely refers to Bryce Blair of Blair, who married Annabell Wallace. The Blair of Blair male blood line ended with William Blair, who died sometime after 1689, leaving his daughter, Magdalene, as sole heiress to the estate. She married William Scott, second son of John Scott of Malleny. When Magdalene Blair died in childbirth, probably before 1715, William Scott assumed the surname Blair in order to inherit the estate. After 1730, the Arms of Blair of Blair have been quartered with Scott. The last Blair to inhabit Blair House was Cecily Madeline Blair, who died in 1978. Colonel Michael Borwick, a cousin of Miss Blair, and his wife, Veronica, then inherited the estate. In 1996 Veronica Borwick sold the title of "Barony of Blair" and a small section of land required to retain the title to Mr. and Mrs. Alfred Glenn of London, England. Mr. Glenn's great-grandfather, William Glenn, was born at Dalry in 1806. Veronica retains the "Estate" which will be inheritated by her nephew, Luke Borwick. The Blair House is presently managed by the Blair Trust Company, Dalry, Scotland, and is open by appointment only. (Click here for more information on Blair House)
Blairburn – A village in the parish of Culross, Perthshire.
Blairdaff – Is in the Chapel of Garioch parish, Aberdeen, and is located 5 miles Northwest of Inverury.
Blair-Drummond – Is located in Perthshire, 6 kilometers Northwest of Stirling and 48 kilometers Southwest of Perth. Drummond means 'at the ridge,' thus Blair-Drummond is a 'level clearing (blar) at the ridge.' Lord Drummond was created the Earl of Perth in 1605 by King James IV. Drummond Castle is located at Concraig.
Blair-Gowrie – A burgh and parish in Perthshire, located 16 miles by rail North Northeast of Perth, and 58 miles North of Edinburgh. It was erected into a burgh of Barony by charter from King Charles I, dated 9 July 1634, in favor of George Drummond, then proprietor of the estate. The ruins of Glasclune Castle, former home of a cadet branch of the Balthayock Blairs, is located in the hamlet of Kinloch, just 3 miles Northwest of Blair-Gowrie.
Blair Hall – Is located 10 miles West Northwest of Dunfermline in Fifeshire.
Blairingone – Is located in the parish of Fossoway & Tulliebole in Perthshire, 10 miles West of Kinross.
Blair-Logie – A small village in Perthshire, located 3 miles Northeast of Sterling in the fertile Forth valley. This is a favorite resort area because of its climate.
Blairmore – A hamlet in Kenmore parish, Perthshire.
Blairs College – Is a Catholic school located near Aberdeen. Held most of the post-reformation Roman Catholic records in Scotland until 1958, when the collection was transferred to Columbia House in Edinburgh.
Blairquhan – Pronounced Blair-wan, this story-book castle is located 10 miles South Southeast of Ayr, near Straiton in Ayrshire. Four families have lived at Blairquhan. The McWhirters built the first tower house about 1346. The Kennedy's then inherited the estate through marriage and built the remainder of the old castle about 1573. In the early 17th century the Whitefords took over, but in 1798, suffering the effects of a bank crash, they sold Blairquhan to Sir David Hunter-Blair,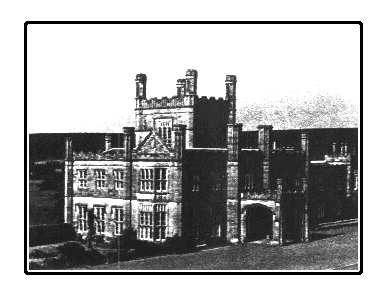 second son of James Hunter, who married, in 1770, Jean Blair, the daughter and heiress of John Blair of Dunskey in Wigtonshire. When Jean Blair inherited her father's estate in 1777, the family added Blair to their name. In 1820, David Hunter-Blair commissioned Scottish architect William Burn to design a new house on Blairquhan. The old castle, having become ruinous, was torn down to make room for the new; however, some of the decorative mouldings and sculpted stones from the old castle were incorporated into the kitchen courtyard of the new house. The new Tudor style mansion was completed in 1824, and contains many antiques and an important collection of paintings by Scottish artists. Perhaps the best achievement of Blairquhan is the 3 mile approach to the castle along the river Girvan and the beautiful walled gardens. Sir Hunter-Blair, 7th Baronet, is the current owner. Blairquhan is open to visitors by appointment only.
Blair of Balthayock Castle - Is located in the Parish of Kinnoul, Perthshire, about 4 miles East of Perth on the North side of Tay River. Balthayock Castle dates back to the 15th Century, or perhaps earlier, and is now in ruins.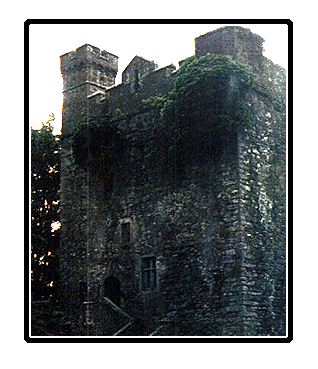 All that remains is a massive square tower, or keep, with 5 foot thick walls, and part foundation. Balthayock Castle was the chief seat of the Perthshire Blairs for nearly 500 years. This Blair family and its Cadet branches once held lands that stretched over an area reaching from the Castle North to Blairgowrie, then over to the North Sea and down to Dundee and the river Tay. The progenitor of the Perthshire Blairs was Alexander de Blair, who married Ela, daughter of Hugo de Neyden of that Ilk, and received a charter of lands in Fifeshire before 1229. His descendant, Patrick de Blair, became the first Baron of Balthayock when he received a charter for the lands from Nicholas de Erskine, Lord of the Kinnoul, in 1370. The original blood line of this family ran out in the 18th Century, when John Blair of Balthayock died leaving only a daughter, Margaret, as sole heiress to the estate. In 1728, Margaret married David Drummond, who assumed the name and Arms of Blair of Balthayock. His descendant, Jemima Johnston-Blair, married Adam Fergusson. Their eldest son, Neil Fergusson-Blair, adopted the name and Arms of Blair of Balthayock in order to inherit the estate. He died in 1862, and the second son, Adam Johnston Fergusson-Blair, who had immigrated to Canada, sold the Balthayock estate.
Blairsville - Located in St. Claire County, Northeast of Birmingham. Blairsville was residence of Levi Cowan Blair and his second wife, Preschia Turner, in the 1860 census.
Blair - Located in Shasta County, West of Redding. Founded in 1856, it was in the heart of Gold Rush country and was originally known as Whisky Creek because a barrel of whiskey dropped off a mule's back, burst and wasted its heartening contents in the flowing stream. Later postal authorities rejected the convivial title and substituted the name of "Blair", named after James Drummond Blair's wife, Eunice (Crocker) Blair, who was the postmistress at the time. That name did not stick and after being called "Stella" and Schilling" it eventually regained its original title of "Whiskeytown". Today the town rests under the waters of Shasta Lake which was formed when Shasta Dam was built. The area around the lake is now known as the Whiskeytown Shasta Trinity National Recreation Area.
Blairsden - Located in Plumas County, about 40 miles Northwest of Reno, Nevada. Plumas County was formed from Butte County in 1854. It was named for the country home of James A. Blair, who was prominent in the early financing of the Western Pacific Railway.
Blair Mesa - Located in Rio Blanco County, about 30 miles West of Meeker, Colorado. It was named for Duncan Blair, an early rancher and Indian agent in the area. Blair Mountain and Blair Ditch, in the same vicinity, were also named for Duncan Blair.
Blair House - Located at 1651 Pennsylvania Avenue, Washington, D.C., across the street from the White House. Blair House was built around 1824 by Dr. Joseph Lovell, the first Surgeon General of the U.S.A.. The house was purchased in 1836 by Francis Preston Blair,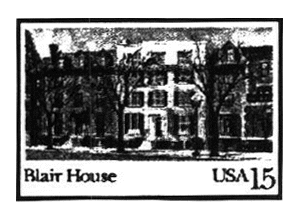 who had moved to Washington D.C. to be Editor of The Globe, a pro-Jackson newspaper. The Blair House was passed down through the family. Montgomery Blair, Postmaster General in Lincoln's Cabinet, inherited it in 1852. Woodbury Blair became owner in 1883, and Gist Blair in 1937. The Blair House was designated a National Historic Landmark in 1937. After the death of Laura Ellis Blair, wife of Gist, in 1941, the Blair House was purchased by the U.S. Government (October, 1942) as the President's Guest House for visiting foreign dignitaries. The Lee House, built around 1859 next door to the Blair House by Francis Preston Blair as a wedding gift to his daughter, Elizabeth, and Samuel Phillips Lee, was purchased by the government in 1943 and linked together with the Blair House. Many Blair family furnishings and heirlooms still grace the house. The Blair House has been the scene of many historic events: the marriage of General William Tecumseh Sherman; Francis Preston Blairs offer, at the request of President Lincoln, of command of the Union forces to General Robert E. Lee; President Lincoln signed the Emancipation Proclamation, freeing the slaves. President Truman lived in the Blair House, 1949-1952, while the White House was being renovated. It was here that he made the decision to send American troops to Korea, and signed the Truman Doctrine and Marshall Plan, and, on 1 November 1950, an assassination attempt was made on his life. Queen Elizabeth II of Great Britain stayed at the Blair House in 1957, and the room she stayed in has been known as the Queen's Suite ever since. Hundreds of Monarchs, Presidents and Heads of State from countries all over the world have stayed at the Blair House since 1942.
Blairsville - Located in Union County in the beautiful Blue Ridge mountains of Northeastern Georgia. It was incorporated and named the county seat in 1835. Their are two versions of the naming of Blairsville. According to Georgia Place Names, by Kenneth Krokow, it was named after Francis Preston Blair. An article written by Margaret Vance Webb (Blair Family Magazine, Vol. VIII, No.3, Fall 1990) states that it was named for Capt. James Blair, who was involved in the settlement of land claims and Cherokee removal from Georgia.
Blair Line - Was surveyed in the early 1800's by James Blair as a boundary between Georgia and the Cherokee Nation. A marker in Habersham County at the junction of Georgia Highways 115 and 105, states, "The historic Blair Line between the State of Georgia and the Cherokee Nation crossed this highway at this point. This line was surveyed by James Blair in the early 1800's. It ran from the forks of the Soque and the Chattahoochee rivers in a direct Northerly line to the Tallulah River. It was the boundary line in 1817 for the purchase of all the lands East of the Chattahoochee River by the State of Georgia from the Cherokee Nation by the Treaty of 1818."
Blair Township - Is located in Clay County, population 37 (1893).
Blair - A post-village in Randolph County, about 12 miles North of Chester and 6 miles South of Sparta. It has 2 churches (1893).
Blairsville - A post office in Williamson County (1893).
Blair - A post-village of DeKalb County, on the St. Joseph river at St. Joe Station on the B & O Railroad. It is located 11 miles East of Auburn and 23 miles NE of Fort Wayne. It has a grain elevator and population of about 200 (1893). It was named for early settler John Blair.
Blairs Cave - A large cave in Monroe County, also known as Buckners Cave and Saltpeter Cave. It is located about 2 1/2 miles Northeast of Stanford. This cave has an extensive network of tunnels, 2 large rooms, and the name "L. V. Cushing" and date "Nov. 23, 1775" scratched on a rock.
Blairsville - A post-village in Posey County, located 12 miles Northwest of Evansville. It was laid out in 1837 by Ebenezer Phillips and Stephen Blair, and named for Blair. It has a flour mill and wagon factory (1893).
Blairsburg - A post-hamlet in Blairsburg Township, Hamilton County, on the Illinois Central R.R., about 32 miles East of Fort Dodge. It has a church, and, in 1893, a township population of 453. It was probably named after railroad tycoon John Insley Blair.
Blairstown - A post-village of Benton County, 24 miles by rail West Southwest of Cedar Rapids, and 10 miles North of Marengo. It has a ladies seminary, 4 steam elevators, a flour mill, 5 churches, a bank, a newspaper office, an academy, and a cheese factory. Population 714 (1893). It was named after John Insley Blair. Other Blair locations in the Cedar Rapids area include Blair House, Blair Building, Blair's Ferry Road and Blair Inn.
Blairs - A station in Washington Township, Doniphan County, on the St. Joseph & Denver City Railroad, located 9 miles West of St. Joseph, Missouri (1893).
Fort Blair - Was located at Fort Scott, Bourbon County, on Locust street between Main Street and Scott Avenue, and was erected to protect Kansas residents against attacks from Confederate and guerilla forces. It was named for Brigadier General C. W. Blair.
Blair - A town in Letcher County, formerly Knox County, where Charles and Easter (Robertson) Blair moved to from Virginia prior to 1810. The town may have been named for them.
Blair Station - A settlement founded in 1784 by Alexander Blair to protect his wife, Elizabeth (Cochran) family and neighbors from the Indians. This settlement, at the junction of Licking River and Stoney Creek, in what is now Bourbon County, near Ruddles Mill, was known as Blairs Station. It survived until Alexanders death in 1798. An 1810 map of the area does not mention it, so the exact location is not known.
Blair Town - A hamlet in Pike County on US 23/460 and the Levisa Fork of the Big Sandy River, about 3 miles Northwest of Pikeville. It was named for Rev. Whetzel Blair, who owned the site in the early 20th century.
Blairs Mills - A post office in Morgan County, located in Perry's Grocery on KY 711, 10 miles North of West Liberty. It was established on Elam Branch of Devil's Fork of the North fork of the Licking River on 18 August 1876, with Cyrus Perry, Jr. as Postmaster and was named for the Blair family's waterpowered gristmill on Devil's Fork. (Source: "Kentucky Place Names", by Robert M. Rennick.)
Blairs Chapel - A United Brethren Church in Adair County, organized by Rev. John Marshall Blair, a former Methodist, who became dissatisfied with the pro-slavery leanings of his Methodist congregation. As the agitation mounted in Adair Co., Rev. Blair, with a group of fellow abolitionists, moved to Madison Co., Iowa, where his brother, Alexander Blair, resided.
Blair's Landing - Also called Pleasant Hill Landing, it is located in Sabine Parish, 18 miles north of Many on LA175. It was the site of a Civil War battle on 12 April 1864.
Blair Station - A post office in Silver Spring, located near the site of the Francis Preston Blair mansion from which the city took its name. A series of commemorative stamps honoring Montgomery Blair, U. S. Postmaster General (1861-1864) were first issued here in 1989. Montgomery Blair High School in Silver Spring was named for him.
Blair Mansion Inn - Located in Silver Spring, was built about 1890 by Charles and Abigail Newman, who were neighbors of the Francis Preston Blair family at Silver Spring. This home has no other connection to the Blairs. It is presently being used as a dinner theater.
Blair Valley - Is located several miles Northeast of Hagerstown in Washington Township, and runs North across the Pennsylvania line. This part of the beautiful Cumberland Valley lies between the North and South mountains of the Blue Ridge range. Blair Valley was divided between 2 states in 1764-67 when Mason & Dixon laid out a line of milestones which bore the letters M for Maryland and P for Pennsylvania. A sign on the Maryland side of stone 114 marks the beginning of Blair Valley. Andrew Blair was one of the earliest settlers (1749) in the Maryland part of this valley, in what was then Frederick County (now Washington County). From here many of his descendants moved North into Pennsylvania and West to Ohio.
Blair Mansion - A 3 story, 14 room house, located about 1 1/2 miles from the Pennsylvania line on the East bank of the Conococheage Creek, where James Blair constructed his combination grist and saw mill.
Blair - A Township in Grand Traverse County, population 371 (1893).
Blairville - A town in Chippewa County, founded in 1880 by George H. Wise, who named it after his father-in-law, George Blair.
Blairstown - A post-hamlet in Henry County, 69 miles, by rail, Southeast of Kansas City.
Blair - Located on the Omaha & Northwestern Railroad at its junction with the Sioux City & Pacific Railroad, 30 miles North Northwest of Omaha and 3 miles West of the Missouri River. The population in 1980 was 6,418. It was named for the railroad tycoon John Insley Blair. Blair won the county seat of Washington County from Fort Calhoun in 1869. It is the home of Dana College, originally Trinity Seminary, which was founded by the Danish Evangelical Lutheran Church in 1884.
Blair - A ghost town in Esmeralda Co., 3 miles north of Silver Peak. It was established in 1906 by the Pittsburg Silver Peak Mining Company, and was named after John Insley Blair, who was an investor in area gold mines. Blair was virtually abandoned by 1916. Only the mill foundations and part of one building remain today.
Blair Junction - Another ghost town in Esmeralda Co., located 17 miles north of Blair, and also named for John Insley Blair. It was developed when the Tonopah & Goldfield Railroad built a spur line to Blair. Blair Junction had a post office from 1920-23.
Blair - A post-hamlet in Grafton County, 4 1/2 miles by rail North of Plymouth (1893).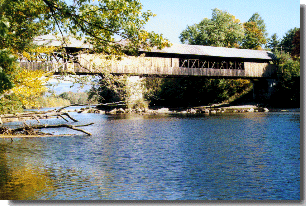 Blair Bridge - Located in Campton, it is the only covered bridge still spanning the Pemegewasset River, and, at 300 feet, it is the longest two-span covered bridge in New Hampshire. It was originally built in 1828 and named in memory of Henry W. Blair, a former United States Senator. The bridge was burned in 1868 by a religious zealot and rebuilt the same year. With the exception of renovations in 1977, the Blair Bridge has withstood man and mother nature for well over 100 years, a graceful reminder of days gone by.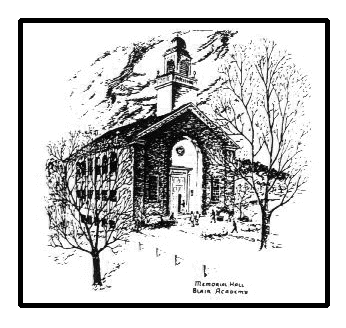 Blair Academy - Located at Blairstown in Warren County. The beautiful campus, set among 315 acres of rolling hills, majestic trees and grand old buildings was recently named a National Historic Landmark. It was founded in 1848 by John Insley Blair, and is an independent, co-educational, secondary boarding school with a current enrollment of about 400 students and 71 faculty members. Blair Academy celebrated its sesquicentennial in 1998.
Blairstown - A post-village in Warren County in the Northwestern corner of New Jersey, located on the Paulinskill River, 9 miles by rail Northeast of Columbia. It was named for John Insley Blair, who gave generously to many projects in his town, especially Blair Academy, which was built across the valley from his home.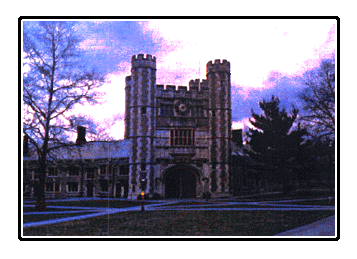 Blair Hall - On the campus of Princeton University, it was built in 1897 with funds donated by John Insley Blair, who was a Trustee of Princeton from 1866 until his death in 1899 at age 97. It was designed by architects Walter Cope and John Stewardson, who were among the first to apply the Tudor Gothic style to American college dormitories. Blair Hall is considered their masterpiece.
Blairsden - A mansion located in Peapack-Gladstone, Somerset County, is a monument to the Victorian age of opulence. It was built in the late 1800's by Clinton Ledyard Blair (1869-1949), second son of John Insley Blair, who was an investment banker and a governor of the New York Stock Exchange. He was one of the founders of Blair & Company, 1 Wall Street, New York, NY. Blairsden took 3 years to build at a cost of 2 million dollars. It has 38 rooms, 25 fireplaces, a sunken pool, squash courts and Turkish baths. The Sisters of St. John the Baptist, a religious order of nuns, currently own the mansion, having purchased it from the Blair family in 1949 for $60,000.
Blair's Bay - A bay on Lake George, New York. It is near the town of Putnam where Col. John Blair's wife, Sarah Kelso Blair, is buried. The bay is still known as Blair's Bay and shows up on current maps of Lake George. After the death of Col. John Blair, Sr. in 1789, his wife, Sarah went to live with ther son, John, Jr., at Blairs Bay, now Glen Burnie NY. Glenn Burnie is located in Washington County, New York near Putnam and Putnam Station, New York.
Blair's Fork - Caldwell Co., NC, One source has it named for Dr. John C. Blair,a confederate officer in the civil war and a member of the "Immortal Six-Hundred". One year before the end of the war he was captured by the northern army and sent to a union prison in Delaware. Later when one of the union armies was trying to capture Charleston, SC, he was taken from the prison with a crowd of 600 other confederate officers, who were also held as prisoners of war, and carried to Charlesmont to be marched in front of the ranks of the union army in their attack on that city. This incident in history is known as the "Immoral Six Hundred".
Dr. Blair was descended from one of the pioneer families of this region for whom Blair's Fork was named. His ancestor was Colbert Blair, who married Sarah Morgan, is thought to have been the son of James Blair, who was found, in old records, to have been with him in old Orange County, VA., and then in Augusta County, VA.
Another source (Allan L. Poe) says that Blair's Fork was named for James Blair, brother of Colbert.
Blair - A town in Jackson County, in the extreme Southwest corner of Oklahoma, about 15 miles North of the Texas border, Its population was 1,142 in 1886. The name honors John Blair, a local railroad official.
Blair Company - The Blair Company of Warren, Pennsylvania in one of the leading catalog mail order companies in the United States. It was founded as the Blair New Process Company by John L. Blair (1888-1962), who started by selling black raincoats to undertakers. The company now operates 2 retail stores in Delaware and Pennsylvania and 2 outlet stores in Pennsylvania, but the bulk of its sales remains direct mail merchandising to customers in all 50 states. In 1994, The Blair Corp. had 2,200 employees, $560,304,000 in Total Revenues and a Net Income of $37,679,000.
Blair City - Lippincott lists this as being a post-office in Clearfield County in 1893. In the 1983 "Pennsylvania Line", a research guide of SW PA Genealogical Services, there is a Blaine City Station in Beccaria Township of Clearfield County, with a population of 534. It has a railroad station and an express office.
Blairs Corner - A post-hamlet in Beaver Township, Clarion County, on the railroad between Emienton and Shippenville. It has a church, 2 hotels and oil is produced here (1893). In 1983 it had a population of 50.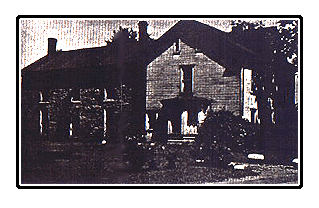 Blair County - Is the only county in the USA named Blair, and it is the only county in Pennsylvania named for a purely local celebrity. It is located near the center of the state and was formed in 1846 from Bedford and Huntingdon Counties. The county seat is Hollidaysburg and the chief city is Altoona. Population in 1970 was 135,356. It was named for the Hon. John Blair of Blairs Gap, PA, the son of Capt. Thomas Blair, a native of Scotland. Pictured on the right is the home of John Blair, located about 2 miles West of Duncansville in Blair County. The front part was built in 1785, and the stone part was built by John Blair in 1827.
Blair Furnace Station - A station on the Pennsylvania Railroad, in Logan Township, Blair County, about 3 miles Northeast of Altoona.
Blairs Gap - Located in Frankstown, Huntingdon County, where Capt. Thomas Blair was a resident taxpayer and owned a grist mill and saw mill. His wife was Jane McClelland, daughter of John and Ruth McClelland of Peters Township, Franklin Co., PA. Blair County was named for their son, the Honorable John Blair of Blairs Gap.
Blairs Mills - Is the location of the Blairs Gristmill and Blacksmith shop in Tell Township, Huntingdon County. It had a population of 51 in 1893. One of the early settlers here, Alexander Blair and his wife Rachel Carson built a log cabin in 1784. In time the old Blair house became a center of travel and trade. Wagons going to and from Baltimore made it their stopping place. The first store was built here and the first tavern. Many other buildings there today were built by Blairs; J. M. Blair Co. store, Blairs Mills Post Office, Taucarora Valley Railroad workers houses, Hotel Blair and numerous Blair residences.
Blairs Station - In Jefferson Township, Allegheny County, on the Pittsburgh, Virginia and Charleston Railroad. Located about 20 miles South of Pittsburgh, it had a population of 600 in 1983.
Blairs Station - In Beaver Township, Clarion County. It has a railroad station and, in 1983, a population of 50.
Blairsville - A post-borough in Indiana County on the Conewaugh River, Pennsylvania Canal and the Western Pennsylvania Railroad, 64 miles by rail East of Pittsburgh and 66 miles West of Altoona. In 1893 it had a Blairsville Ladies Seminary, a foundry, 2 flour mills, 2 tanneries, a woolen mill and a population of 3,126 (1983 pop. 3,915). Being a coal producing area, Blairsville had a coke works and the workshops of the railroad were locate there. It was named for John Blair, of Blair's Gap, who was among the first promoters of the turnpike and canal-portage system.
Blairsville Intersection - A village in Derby Township, Westmoreland County, on the Pennsylvania Railroad main line at the junction of the Western Pennsylvania Railroad division. It is located 3 miles Southeast of Blairsville and 63 miles West of Altoona. In 1983 it had a railroad station, a telegraph station and a population of 125.
Blair Valley - The Northern part of the valley separated by the Mason-Dixon Line and lying in Montgomery County between Claylick and Two Top mountains [see Blair Valley, Maryland]. One of the earliest settlers here was Phillip Davis, founder of Fort Davis and father of Elizabeth, who married Andrew Blair. In 1844, the Blair Valley Log Church was built on Blair Valley Road. It was 24 by 26 feet, could seat 110 people and was affiliated with the Methodist Church.
Blair - In Fairfield County, on the Broad River, it is about 20 miles North of Columbia.
Blairsville - A post-village in York County, 9 miles from Yorkville. In 1893 it had a population of 487.
Blair School of Music - Is located at Vanderbilt University, Nashville. It was established in 1964 as Blair Academy, a division of George Peabody College, by the Justin and Valere Potter Foundation through a bequest of Valere Blair Potter in memory of her mother, Myra Jackson Blair. Blair School became a private, independent institution in 1977, then was merged with Vanderbilt University in 1981. Blair is now recognized as one of the foremost schools of music in the United States, and is a vital part of Nashville's musical life.
Blairs Ferry - Is located on the Tennessee River in Loudon County. It was established by John Blair and his sons, Hugh, William, James and Samuel, who came from Guilford County, North Carolina. John's daughter, Jean, came with them to serve as housekeeper. The settlement that sprang up at the site of the ferry was first called Blairsville, but was changed to Loudon when the East Tennessee, Virginia & Georgia Railroad was built. The ferry was operated by the Blair family from 1838 until 1930, when it was replaced by a bridge. It ferried people, horses and wagons in the beginning, then autos and trucks across the Tennessee River. Sam Blair operated the ferry in 1927, and it was rumored that $100,000 was netted from the boarding fees that year.
Blair - A town in Shelby County in East Texas on the Louisiana border. Population 200 (est. 1990).
Blair - A town in Taylor County in West Texas just below the panhandle. Population 23 (est. 1990).
Fort Blair - Located in Desdemona, Eastland County, was established in 1857 by Charles Culpepper Blair. Several families lived here during the Civil War, cooperating to defend themselves and their belongings from the frequent Indian raids. The settlement consisted of 12 log cabins, 14 square feet in size and spaced 14 feet apart with intervening pickets.
Archibald Blair House - Is located on Market Street in Colonial Williamsburg. It was built about 1720 by Dr. Archibald Blair (ca. 1665-1733), a physician and apothecary, emigrated from Scotland to Virginia in 1690. His brother, Commissary James Blair, founder of William & Mary College, had arrived in Virginia 5 years earlier. Peter Hay purchased the home around 1760, then after his death, his widow, Grissel, used it as a lodging or boarding house. It is today known as the Grissell Hay Lodging House.
John Blair House - Also referred to as the "Old Blair Homestead," is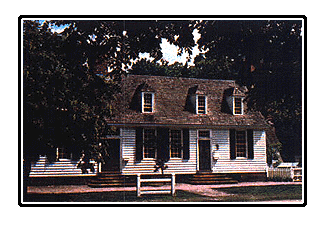 located on Duke of Gloucester Street in Colonial Williamsburg. It is one of the oldest houses in Williamsburg, the original part being built ca. 1740 by John Blair, Sr. (1687-1771), son of Dr. Archibald Blair. John Blair, Sr. was twice named acting Governor of Virginia, and was the father of John Blair, Jr. (1732-1800), a signer of the U.S. Constitution and one of the first Justices of the U.S. Supreme Court. The house fell into disrepair until 1922, when the "Society for the Preservation of the Old Blair Homestead" was formed to save and preserve this historic Blair home. Dr. Eleanor M. Hiestand-Moore and other prominent Blair descendants were active in this endeavor. Many of these same people helped form the original Blair Society for Genealogical Research in 1925.
Blairs - Located in Pittsylvania County, 4 miles North of Danville. In the 1780's, William and Sarah (Sutor) Blair emigrated to Pittsylvania Co., where he died in 1790. He and Sarah had 9 children. The town is probably named for him. Click here (Beavers Tavern) for additional information.
Blairs Wharf - A post-office of Prince George County, on Marmora Lake, 35 miles from Peterborough. In 1893 the population was 350.
Blair - Is located in Logan County, in the Southwestern part of the state.
Blair Mountain - In Logan County, was the site of the "Battle of Blair Mountain" in 1921, between a group that was trying to unionize coal mine workers and local authorities. An "army" of 3,000 men organized in Kanawha County marched toward Logan, where they were met by about 1,200 men who opposed them. The worst fighting took place on Blair Mountain, where 3 deputy sheriffs were killed and 40 defenders were wounded. The number of miners killed or wounded is not known. The miners surrendered when President Warren G. Harding sent federal troops into the region and the miners wouldn't fight the troops. A trial was held in Jefferson County and many miners were convicted. As a result, feelings about unions and mine operators run strongly throughout Logan County even today.
Blairs Ridge - Is one of the first settlements in Marshall County, containing 22,323 acres of fine farmland. The Blairs, who gave the ridge its name, emigrated from Maryland and settled here in 1824. In 1835, the Blairs Ridge Methodist Episcopal Church was erected on land donated by Mr. Blair.
Blairton - Is located in Berkeley County, in the panhandle area of the state.
Fort Blair - Located at Point Pleasant in Mason County, where the Kanawha River flows iinto the Ohio. Fort Blair was established in 1774 by Lord Dunmore, Colonial Governor of Virginia, during his campaign against the Shawnee Indians. The great Shawnee Chief, Cornstalk, was murdered there. Capt. William Russell was named commander of the fort, and some historians believe he named it in honor of Commissary James Blair of Williamsburg, who had just recently died. Another theory is, Lord Dunmore being a Murray, it was named after Blair Castle in Scotland. Yet another possibility is that is was named after William Blair, a prominent settler in the area who was wounded at the Battle of Point Pleasant. Fort Blair was abandoned by the British in 1776, and, on the site of the burned fort, Fort Randolph was built by the Continental Army, and named in honor of Peyton Randolph, a member of the Continental Congress, who had died the year before.
Blair - A post-hamlet located in Trempealeau County, on the Green Bay & Minnesota Railroad, 43 miles Northeast of Winona, Minnesota. In 1893 it had 2 churches and a planning mill. It was platted as Porterville, but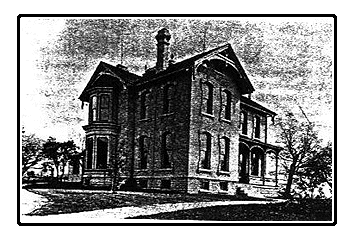 was renamed Blair in 1873 in honor of John Insley Blair, the railroad tycoon.
Blair House - Is located at 434 Madison Street in Waukesha. The stately brick home was built about 1876 by William Blair, a native of Dundonald, Ayrshire, Scotland, who emigrated to Wisconsin in 1845, and was a prominent banker and manufacturer. His son Henry, who was a former mayor of Waukesha, was the last Blair to live in the home.
Perhaps it would be fitting to conclude A Place Called Blair with a bit of home-spun humor about how places are named, from the book, Corn Country by Homer Croy
And now I come to the town-namingest person who ever swept across the corn lands, John I. Blair. He was from Blairstown, New Jersey, which was named for one of his family, and came to the Middle West where he left a trail of towns behind him as a Daniel Boone might leave a trail of blazed trees. He was the richest man who ever had anything to do with the business affairs of Iowa and was chief promoter and builder of the Chicago & Northwestern, and a couple of other railroads. In fact, when time came for him to go to his heavenly reward he was a director in seventeen railroads...I hope this was considered an asset. His railroads were flowing across the country like water over the kitchen linoleum, and new towns had to have names. He took care of that...
He had a son-in-law back in New York; this son-in-law was Charles Scribner, founder of the publishing house of Charles Scribner's Sons. So he named a town for him - Scribner, Nebraska. But there's no publishing, it's all hogs and pure bred cattle....He had a friend, Oakes Ames, so he named a town for him; and there it is today - Ames, Iowa, home of the Iowa State Agriculture College. With a fine family feeling, he named a town for his daughter, Alta, and was very proud of his good deed. But a family is a complicated affair with many currents and cross-currents sweeping through it, so it was, even in rich Mr. Blair's, for Alta's sister, Aurelia, became jealous. Father Blair took care of this, as only a railroad builder could, by naming a town for her - Aurelia, Iowa. It is now the home of a large Cement Blocks Works. He had a dog he was exceedingly fond of; the dog followed him around. One day the dog was killed by a construction train. Mr. Blair was so upset that he named the town for the dog, and there it is today - Colo, Iowa.
It seems that in the course of his railroad building, that Mr. Blair suddenly realized he didn't have a town named for himself, it must have been a distressing moment. He promptly took care of this by naming a post office in Pottawattamie County - Blair. Later it curled up and died, so he named a new place, in Benton County - Blairstown. He was now in his stride, so he named a village, in Hamilton County - Blairsburg. He flowed over into Nebraska, and named, curiously enough - Blair, Nebraska for himself. Now comes a twist. A town in Cherokee County, Iowa wanted to get the new railroad he was flinging across the state; so the people got together and named the place in honor of Mr. Blair - Blair City, they called it. But it didn't work, he shunted the railroad past the town.
So, two daughters, a son-in-law, a friend, a dog, and himself all had towns named after them. No town, however, was named for Mrs. Blair. She seems to have been the family martyr. Becoming fascinated by this town naming gentleman, I looked up his later history and found that he lived and died in Blairstown, New Jersey, founded Blair Academy, and was buried in Blairstown Cemetery, no doubt just the way he wanted it. Maybe his little part of Heaven is called Blair Heights.
Entries for "A Place Called Blair" were submitted by members of the Blair Society for Genealogical Research and from the Blair Magazine, 1925-31, the Blair Family Magazine, A Touring Atlas of Britain, Lippincott's Gazetteer of the World, 1893, and various other sources. This list of Blair places is far from complete. We would welcome the submission of additional Blair places from around the world. We would also welcome additional information on Blair places already mentioned and photographs of these places. When submitting entries for "A Place Called Blair," please include all known information about the place, including who or what it was named after and, most importantly, be sure to cite sources. Entries may be submitted to: John A. Blair, 63 Northlands Avenue, Haywards Heath, West Sussex, RH16 3RT, England. E-mail: webmaster